General Interest: International perspective on word describing symptoms - Use of Onomatopoeia to Enhance Emotional Expression during Medical Encounters in Asian Countries
General Interest: International perspective on word describing symptoms - Use of Onomatopoeia to Enhance Emotional Expression during Medical Encounters in Asian Countries
By: International Committee work
Submitted by: Keiko Abe, International Committee Chair, Aichi Medical University
Onomatopoeia is a term that comprehensively refers to "mimetic word." Examples of onomatopoeia in English include "cuckoo," "sizzle," "hiccup," or "buzz," in that the words imitate the sounds they describe.
In Asian countries, especially Japanese, onomatopoeia can be used as a means for expressing state of being, which may be something that does not necessarily make a sound, but allows for expression of that state more emotionally. A number of onomatopoeia used in Japanese life and culture are characterized by repetition of the same morpheme, such as Gan Gan for "biting pain." In fact, Japanese express pain using many kinds of onomatopoeia. Medical onomatopoeia describe not only quality of pain but also degree of pain, so understanding and interpreting use of onomatopoeia by patients is important to Japanese medical practitioners. English speakers might use a number to describe degree of pain and adjectives to describe quality, while medical onomatopoeia can convey both degree and quality in a single expression. We introduce some words describing symptoms around the world in series. See some examples of Japanese medical onomatopoeia below: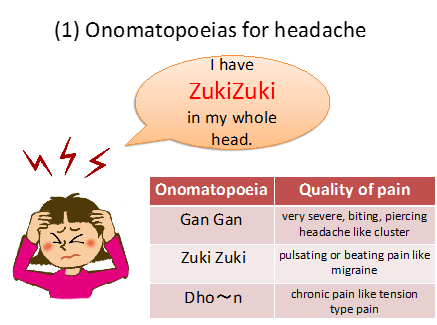 How to apply Onomatopoeia into SP portrayal
Because we live in global village, many Asian people live in the US, and in the world. Medical onomatopoeia which Asian patients express is useful for understanding Asian patients' symptoms better. So when SPs portray international patients, especially Asian patients, use onomatopoeia. For example Gan Gan instead of an English expression of a biting pain. This would allow SPs to convey international perspective.
Publications Committee Mission: "To bring high quality reporting of current research, trends, techniques and information regarding SP methodology and other relevant industry articles to the attention of the membership through the web-based ASPE eNews blog."
Please provide comments, questions or suggestions about the ASPE eNews Blog here.
Share this post: