International News: China's First International SP forum held in Hangzhou
International News: China's First International SP forum held in Hangzhou
Submitted by: Robert MacAulay, Director, Standardized Patient Program UCSD School of Medicine
In December 2017 China held its first international simulated patient forum in the city of Hangzhou hosted by the China SP Practice Teaching Guidance Committee (CSPC) and sponsored by Zhejiang University. ASPE was graciously invited to attend the forum as a guest of the CSPC and introduced its Standards of Best Practice to a receptive group of attendees representing eight countries. Twenty speakers presented over the two day forum including ASPE members David Li, Robert MacAulay, Debra Nestel, Carol Pfeiffer, Claudia Schlegel and Peggy Wallace. The theme of the forum was: communication, cooperation, innovation, development and pragmatism.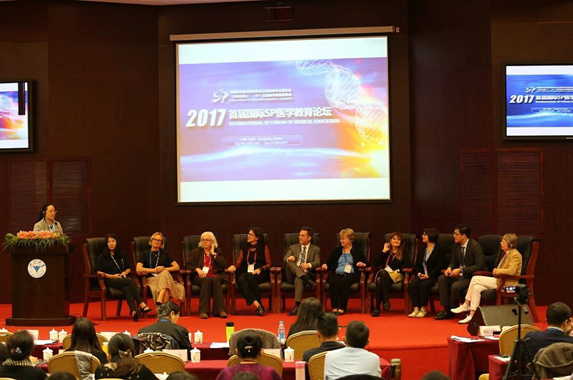 From the press release: 20 experts from 8 countries and areas all over the world attended the forum and speech, including medical schools and medical institutions of United States, Germany, Switzerland, Australia, Singapore, Hong Kong area, Taiwan area and mainland of China, and the experts and representatives of famous international academic organization. There are the most famous international SP academic organization (ASPE, Association of Standardized Patient Educators) (Robert MacAulay), German Medical Education Association (Lauber Heike), Medical Humanities Education Committee of China Education Ministry (Zhang Jinzhong Ph.D), Chinese Medicine Education Committee of China Education Ministry (Fu Bin), Medical Faculty Mannheim of Heidelberg University (Renate Strohmer), Bern nursing education centre of Switzerland (Schlegel Claudia, PhD,RN), Melbourne Medical School in Australia (Debra Nestel, PhD), University of California San Diego (Peggy Wallace, PhD), University of Connecticut (Carol A. Pfeiffer, PhD), Sengkang Health of Singapore (Chaoyan Dong, PhD.), Hong Kong Society for Simulation in Healthcare (David Li Li), Taipei Medical University (Haoyu Chen), Peking Union Medical College Hospital (Pan Hui, Professior), Nursing School of Peking Union Medical College Hospital (Shengyu, Professior), Zhejiang University school of Medicine (Shi Shuwen), Tianjin University of Traditional Chinese Medicine (Wang Qiang, Deputy Director), West China University of Medical Sciences (Yue Rongzheng, PhD), Fudan University (Lai Yanni, vice director), Shanghai College of Health Sciences (Huang Gang PhD), PLA NO.117 Hospital (Xudong Zhang, PhD) and so on.
The conference room on the third floor of Qizhen Hotel of Zhejiang University (in the Zijin gang campus of Zhejiang University) was chosen as the forum location. The activity attracted more than 300 people of 24 provinces and autonomous regions, 74 medical colleges and medical institutions nationwide.
At the opening ceremony of the Forum, a welcome address was delivered by professor Zhang Liming of China's SP education committee and Li Xiaoming, vice President of Zhejiang university medical school respectively. Other leaders and guests addressed include Robert MacAulay who is the special expert of International SP academic organization (ASPE), Renate come from Medical Faculty Mannheim of Heidelberg University (She is also the general leader of CSPC from the German speaking countries), Shenbin, group leader of experts of Health Vocational Education, and other corresponding department leaders of the ministry of education.
In the opening ceremony, Robert MacAulay said that China's first international SP forum was not only a big event in China, but also a major event in the field of international SP. He expressed his recognition and appreciation for the many works and efforts made by the China SP Committee.
The content of a day and a half of the SP medical education forum was designed richly. The lecture topics of each expert range from medical SP brief history and future outlook, the SP application teaching model development, research on SP teaching mode and evaluation management of clinical, nursing and traditional Chinese medicine, teaching content design and scheme of doctor-patient communication, SP best practice standards, the construction and management of SP teaching project in national medical colleges and institutions, SP methodology of the science and art, story of SP community management development, quality control of SP project, health personnel training and SP application development, the SP application of methodology under medical humanities horizon, discussion of medical plastic SP teaching model, as well as the SP teaching experience shared by several famous domestic medical university.
The overall design architecture of forum speech is full of international elements, Chinese characteristics, multiple complementarities, academic crossover, SP optimization, and compatible pragmatic spirit.
The academic forum invited expert teams of top international SP and domestic SP academic talents to participate in exploration and interaction. There was also an excellent SP case performance of "mania" and a live Q&A session with international experts. Each module has been carefully designed and polished, and every presentation and showcase has made a deep impression on the staff.
This forum also won the attention and participation of Health, Journal of Medicine and Philosophy, and many media of Hangzhou, nationwide and aboard.
During the forum, a number of experts were interviewed by the media, and the contents of the interview will be published and reported in multimedia.
There were also English and Deutsch simultaneous translators arranged for helping participants optimally understand and absorb the teaching knowledge and information shared by experts all over the world.
It is the foreign language institute of Zhejiang University and German study translation team from Shanghai that undertakes the translation work. The overall translation effect was well received by the general assembly.
The host team lineup of the forum is strong, casting by Tang Jian (Tianjin Medical University), Xu Jia (Zhejiang University school of Medicine), Tang Hongmei (Vice President of Shanghai College of Health Science), Feng Kaimei and Shi Shaoting (president and vice president of Shandong Laiyang Health college).
The end of this forum is the expert interactive question and answer session. After the screening of hundreds of questions gathered in the forum, the conference team took turns answering questions from all the speakers, and the answers of the experts received many warm applause from the scene.
At the beginning and the end of the forum, "International SP forum" and "China SP committee", two spots made by China SP committee, was played separately. It showed the development progress of importing SP to China and requirement of promotion, put forward the purpose and significance of the international SP forum, advocated to unite the country and the world medical education institutions, work together, create a specification SP teaching standards and personnel system and achieve the multivariate and effective advance of medical education.
With various efforts, the forum activity ended successfully.
Publications Committee Mission: "To bring high quality reporting of current research, trends, techniques and information regarding SP methodology and other relevant industry articles to the attention of the membership through the web-based ASPE eNews blog."
Please provide comments, questions or suggestions about the ASPE eNews Blog here.
Share this post: