Todd Lash Receives Emerging Leader Award
Todd Lash Receives Emerging Leader Award
Submitted by: Janice Radway, Perelman School of Medicine at the University of Pennsylvania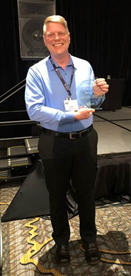 In recognition of the outstanding talent within the Association of Standardized Patient Educators, we annually honor an individual who has worked with human simulation methodology for fewer than seven years with the "Emerging Leader of the Year Award."
To be eligible for the award the nominee must meet two of four requirements:
Contributing to the SP community at ASPE conferences
Presenting about SP methodology at other conferences
Completing work for an ASPE committee
Publishing abstracts, commentaries, editorials or articles in scholarly publications
Todd Lash was presented with the Emerging Leader of the Year Award at the ASPE annual conference in Kansas City, MO, on June 17, 2018. Todd has been in his position as an education resource specialist at the Clinical Skills Education and Assessment Center at The Ohio State University College of Medicine (COM) since December 2014. He oversees the standardized patient (SP) program at the center and has focused on best practices in training. He has implemented implicit bias training as part of standard onboarding for all SPs, has helped develop and introduce a PETA program into the COM curriculum, and has incorporated hybrid equipment into COM clinical assessments.
Todd has been described by colleagues as "creative, innovative, and educationally courageous" and as "a calm voice and a leader who listens well and respects all opinions and individuals." Todd was instrumental in transforming ASPE's digital communication by chairing the ASPE Publications Committee and creating the ASPE eNews Blog. As chair of the Publication Committee, he also sits on the ASPE board of directors. He is also a member of the Education Content Committee and Conference Committee.
"Though newer to the field," says ASPE President Val Fulmer, "Todd Lash has jumped in with both feet and began serving on committees and presenting work at ASPE almost concurrently with his appointment at Ohio State University. As the chair of the publications committee he has brought the community together by his warm collaborative nature and skilled eye for gleaning information of interest to our membership. Congratulations Todd!"
Publications Committee Mission: "To bring high quality reporting of current research, trends, techniques and information regarding SP methodology and other relevant industry articles to the attention of the membership through the web-based ASPE eNews blog."
Please provide comments, questions or suggestions about the ASPE eNews Blog here.
Share this post: